Donate
Support the Tennessee Fisher House
Fisher House™ Foundation and the Fisher House™ program depends of public donations to continue its important work. 
Without your help we would not be able to offer necessities and comfort items to our guests so that they do not have to be concerned about anything but their ill, or injured, loved one.
Fisher House™ Foundation does not disclose the names of its donors to any other individuals or organizations. We do not do telephone solicitation.
Fisher House™ Foundation, Inc. is a not-for-profit organization under section 501(c)(3) of the IRS code. Donations are tax deductible to the maximum extent allowed by law.
WAYS TO GIVE:
Log into Facebook: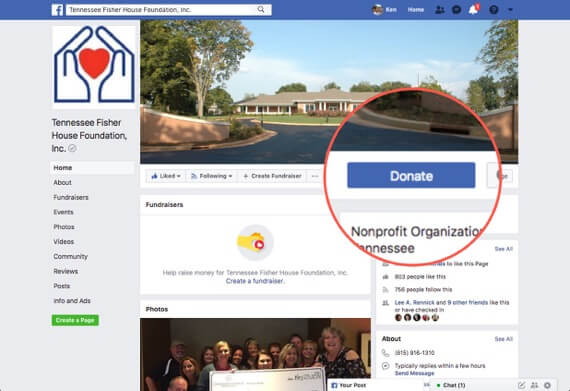 Combined Federal Campaign No. 35886
BY MAIL:
SEND YOUR DONATION TO:
Tennessee Fisher House Foundation, Inc
P. O. Box 774
Brentwood TN 37024-0774
Please make checks payable to: "Tennessee Fisher House Foundation"
Please include the form:
ONLINE:
The icon below will lead you to an online form.  Enter the donation information and click on the drop down in the Program Area.  Scroll down to Tennessee to direct your donation go to the Tennessee Fisher House.