Misc. Information & WISH LIST
Fisher House Eligibility and Criteria  – click here to print –  FH Eligibility and Criteria
Donation Form –  click here to print FH Donation form 2014-01-21
Brick Order Form – click here to print Brick Order Form 1 page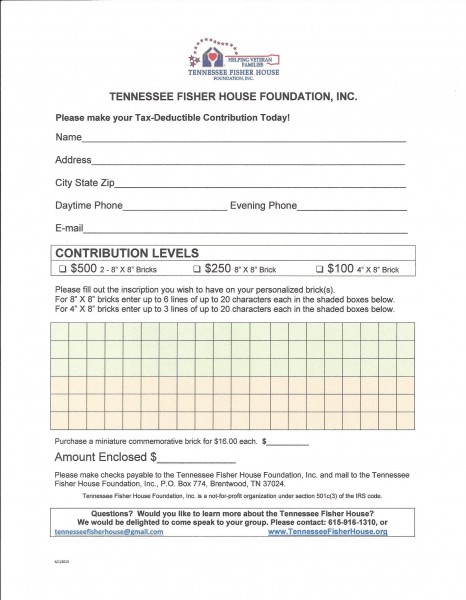 WISH LIST OF NEEDS TO ASSIST OUR GUESTS – click here to print Wish List July, 2017 , 
Wish List for the Tennessee Fisher House
Below is a list of items to comfort our Veteran's families and, in some way, ease their burdens.
Consumables:  (HE) laundry detergent preferably.  Anti-bacterial wipes, paper "only" plates, bowls, disposable coffee cups with lids & postage stamps.
Non-perishable Snacks:  Individual packaged chips, crackers and candy bars, granola bars.
Miscellaneous Items: Full (size not hotel size please) Shampoo only–no conditioner, individually wrapped or small packets of makeup remover wipes, liquid shower gel (no bar soap please) hair combs/brushes, tooth brushes, tooth paste, women's personal hygiene items.
Please note: We can only accept new items due to health concerns and standards. 
 To Coordinate Delivery please contact Fisher House Manager Becky Wood at 615-225-5758 or Email: Rebecca.Wood4@va.gov Administrative hours are M-F 9am-4pm.
We thank you on behalf of the grateful families who benefit from your generosity.