WHY DOES TENNESSE FISHER HOUSE NEED YOUR DONATIONS?
The house is approaching it's 5th birthday. In five years, it has gotten a lot of use!
The beautiful tile needed a good clean and polish and the grout needed replacing in the entire house and in baths. While all that was going on, we paid for our guests to stay in a neaby hotel and some food for them. $$$
Our House Manage purchases groceries for all these famlies each week. Who pays for it? We do. $$$
All of the landscaping needed some work including trimming, weeding, and replacement. Still more to do in the fall. $$$
This is a home, and just like your home, it requires maintenance….and this is just part of what we do.
YOU CAN USE THE DONATE BUTTON AS SHOWN ON OUR DONATE PAGE, OR YOU CAN MAIL A CHECK TO OUR TREASURER AT:
TENNESSEE FISHER HOUSE FOUNDATION, INC.
P. O. BOX 774
BRENTWOOD TN 37027-0774
Thank you in advance for your help and generosity!
The Tennessee Fisher House Foundation Board of Directors has elected a new President, Don Wright.  Don will assume his new responsibilities beginning July 1, 2018 for a two-year term.
Two new Directors were also elected to take office July 1, 2018:
Ronald T. Wright, DDS
R. Brandon Hulette, Associate Professor of Military Science at Vanderbilt University; Major, U.S. Army Reserves
We wish to thank the dedication and service of the members of the Board whose terms have expired, especially our outgoing President, Tom Allard.
The Third Annual United Rentals Golf Tournament was held at Natchez Hills Golf club on Monday, April 23, 2018.  In spite of being a rainy day, a good time was had by all.  Gold Star Mother Jan Edens, who is also a TN Fisher House Foundation Board Member, spoke to the golfers relaying the importance of having a Fisher House.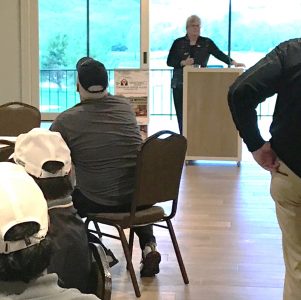 United Rental had some of their equipment on the golf course beautifully decorated to support the TN Fisher House.